Fingertip Injuries and Treatment Options
Fingertip injuries may include crushing injuries, lacerations, and even amputation. They can affect any or all components of the finger, including the soft tissue, the fingernail and nail bed, as well as bone. Because the fingertips are sensitive and contain many nerves, great care should be taken to preserve function and sensitivity. A properly functioning fingertip should be free of pain and have the ability to feel, pinch, and grip.
TREATMENT:
Bandaging: in some instances, the wound is minor enough for it to close on its own.
Shortening of bone: so skin can amply cover wound.
Skin graft : used when too much skin is missing to properly cover the wound.
Reconstructive flap surgery: covers the wound with skin taken from a healthy portion of the injured hand.
Replantation: where amputated fingertip is reattached.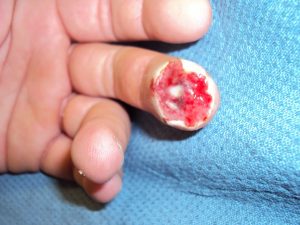 Proper treatment should be assessed by a trained hand surgeon like Dr. Fiore, and depends on numerous factors, such as the extent of injury, the position and angle of any cuts involved, whether bone is exposed or not.
Dr. Fiore specializes in the diagnosis and treatment of Fingertip Injuries. He is board certified by the American Board of Surgery and fellowship trained in hand surgery. For more information on treatment options, or to schedule a consultation, call Fiore Hand and Wrist at (281) 970-8002.
We are conveniently located within driving distance of Cypress TX, Katy TX, Spring TX, Tomball TX, The Woodlands TX, and Houston TX.