Hand Skin Grafting Procedures
Injuries, such as, severe burns or abrasions require skin grafting from other portions of the body to be used to speed healing, improve skin function, and appearance in the damaged area. After the area is cleaned of damaged skin through excision or debridement, the transplanted skin is used to cover the damaged area, attaching to the tissue below.
The skin is made up of two layers, the dermis and the epidermis. The dermis is the deeper layer which makes up 95% of the skin thickness. The epidermis, the outermost layer comprises the other 5%. Skin grafts are classified into two categories, depending upon the thickness of the transplanted skin and the amount of dermis involved.
FULL-THICKNESS SKIN GRAFTING:
The full-thickness graft is taken from the donor site with a scalpel. The donor site wound is then sutured together leaving a straight scar. This type of graft is often used in visible areas, such as the face or hands. The transplanted skin retains more characteristics, such as color, thickness, and texture, of normal skin than split-thickness grafts do.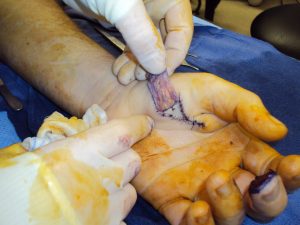 SPLIT-THICKNESS SKIN GRAFTING:
A thin layer of skin is shaved from the donor site to cover damaged areas. This method is often used to treat burns. The thin layer of skin taken from the donor site eventually grows back on its own, though often lighter in color than before.
Dr. Fiore is a board certified surgeon by the American Board of Surgery and fellowship trained in hand surgery. For more information on treatment options, or to schedule a consultation, call Fiore Hand and Wrist at (281) 970-8002.
We are conveniently located within driving distance of Cypress TX, Katy TX, Spring TX, Tomball TX, The Woodlands TX, and Houston TX.
For more information please visit Handcare.org.